C-Byte Introduces Enterprise Architecture Planning Service.
Focusing on customers' business success, C-Byte, Inc. today announced a new professional service called Enterprise Architecture Planning. Offered by C-Byte's newly formed Enterprise Division, an Enterprise Architecture Plan (EAP) helps customers align information technology (IT) with their business strategies and exploit IT to achieve their business objectives. C-Byte is focusing its efforts on bridging the gap between what existing technologies offer and what organizations actually require them to succeed in the global market.
C-Byte.
The service builds on C-Byte's years of leadership in helping large organizations move from proprietary environments to open systems. Through the EAP service, C-Byte will further help customers implement practical architectures that deliver immediate results while laying a sound foundation for the future — a service that, until now, has not been formally available from a systems vendor in the open systems marketplace.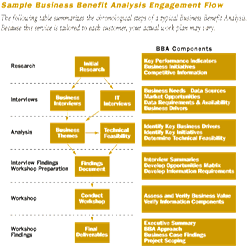 In developing enterprise architecture plans, C-Byte consultants start at the highest level: understanding a customer's business challenges and how its current IT infrastructure helps or hinders meeting them. From there, C-Byte designs an information systems architecture in which the customer's business objectives determine the technology choices. C-Byte's approach helps ensure that the IT architecture establishes a solid foundation to meet current needs; flexibly accommodates changes in business processes and practices; and accepts new technologies without requiring extensive redevelopment or making current systems obsolete.
Business.
A key component of the EAP is a structured cost/benefit analysis called Returned Business Value, which is also available from C-Byte as a standalone service. This analysis determines the real value of technology investments and helps organizations establish a baseline for future investments and for measuring return on investment (ROI).
"Our philosophy is simply this: There is nothing more important than our customers' business success," said Trevor Biscope, C-Byte's Chairman. "We've made it our corporate mission to help our customers achieve that success by helping them align information technology with their business goals."
C-Byte offers a range of professional consulting, education and support services to meet customers' complex database, application and network integration needs and help customers make effective transitions to open systems. Where appropriate, the solution will include symmetric multiprocessing systems offered by C-Byte's Platform Division.