Dorian S. Nakamoto "unconditionally denies" Newsweek Bitcoin story.
It seems that Newsweek has managed to dig themselves really deep into a hole this time, with recent Dorian Satoshi Nakamoto having denied once again of every being behind the creation of Bitcoin, this time with a letter that been released by his lawyers. "I am writing this statement to clear my name" say the 64-year-old California man, who has been the focus on may cover stories for the past couple of weeks since the beginning of this month.
Released Statement.
Nakamoto provides that this new tidbit to prove that he had no involvement behind the creation of the cryptocurrency: "I discontinued my internet service in 2013 due to severe financial distress."
Nakamoto has admitted in having some computer programming skills, this does not mean that he is aware or familiar with the technology behind Bitcoin, and has been struggling to find any jobs in the field for the past decade. "My prospects for gainful employment has been harmed because of Newsweek's article," he writes.
Nakamoto continued on to say that the article had caused his family "a great deal of confusion and stress." He added that he would have no further public statement on the matter.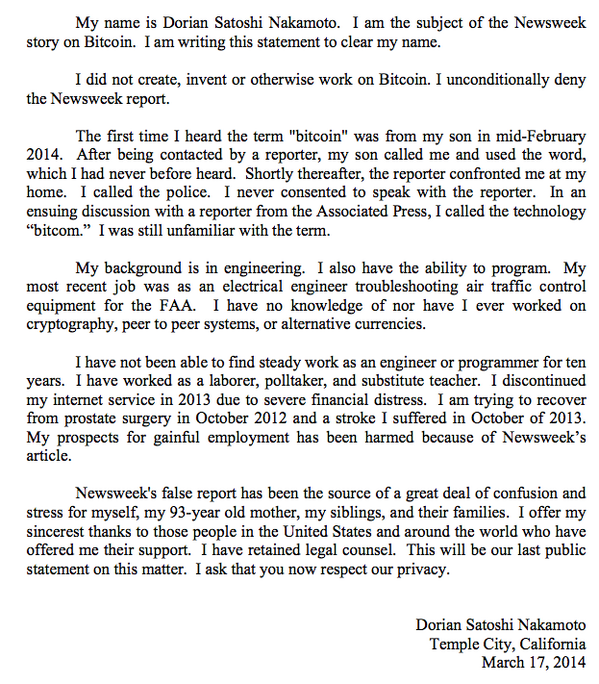 This letter made its appearance during an tweet in the early Monday morning by Lawyer Ethan Krishner, who has confirmed to Quartz that he is currently representing Nakamoto. Kirschner did not comment further and it has yet to be made clear whether Nakamoto has any plans to sue Newsweek, although all signs seem to point that he may be strongly consider trying to make a fortune in damages.