Mozilla Debuts New Beta Firefox with Improved Interface and Sync.
Firefox's current interface seems to be going under a major change soon and adding a bunch of new goodies that will vastly improve the quality and use for the browser. The recently new beta version for Firefox 29 has included some major redesign on the browser's toolbars, menus and tabs. It has also changed the way tabs and bookmarks can be synced with devices.
"Australis"
The new "Australis" design feels more bulbous than the previous old one, with a more rounded look for the tabs and the menu system going under a revamp. The orange "FireFox" menu bar has that previously existed on the upper left corner has been taken down. The new menu button lays in the upper right corner, and uses the same "hamburger design as Chrome and plenty of other application. By clicking one it, one will be able to see a grid of icons, which has replaced the previous text-driven menu system.
Mozilla has commented on the new menu system, with emphasize on customization. At the lower area of the menu there will be a "customize" buttion that takes the user to Firefox's layout tool. From there, the user can either add or remove buttons from the menu and change the position of various buttons and toolbars.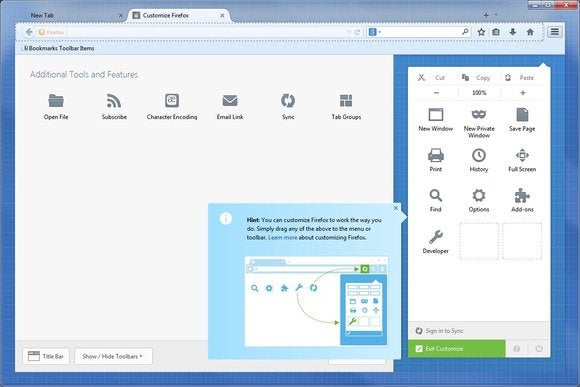 One of the things that has managed to stay the same are the bifurcation of Firefox's URL and search bars. While the user can search the web by entering keywords into the URL bar, it a much more slower process than going straight to the search bar. One of the more confounding parts is that Firefox doesn't allow the choice of combining the two bars with a customization tool, though users can always use a add one to accomplish this,
Firefox accounts
An additional big change in Firefox 29 are the use for Firefox Accounts that allow one to sync bookmarks, tabs, and settings. Under the previous system, Firefox would ask its users to enter a code to pair up each device. The new system asks the user to create a Firefox account. Firefox then proceeds to store user data on its own server with end-to-end encryption. The server-based sync is more due to that of privacy concerns, but its quite more convenient and it handles in the same manner that Google Chrome handles syncing.
For anyone who is interested in the new features now, can download the Firefox beta.  Or they one can either wait until a more stable version of Firefox is released.