ONICS Corporation's INDIGOGO Campaign to Launch on August 26.
As transportation and mobile computer technology continue to develop, more and more consumers, who already have smart phones, are looking for ways to integrate their phone into their vehicle so that it can be used for everything from music, entertainment, and navigation to safety, vehicle health, and more.
ONICS.
ONICS Corporation is a San Diego, California based company has developed a proprietary system that aims to accomplish that goal, and so much more for the consumer. With their patented (some claims still pending) double-din unit, ONICS allows the consumer to unlock the power of their smart phone to not only be used as their in-dash radio, but also as a GPS, and even further granting access to information ranging from the temperature outside to the temperature of your engine coolant. The ONICS system unlocks all the power and capability of a smart phone's software applications, as well enhanced user interfacing to create a safer, smarter, and better way to drive.
Car manufacturers and other aftermarket competitors cannot react to the needs of the consumer effectively. They have taken one of two approaches: they are either trying to insert an obsolete computer into a car that will pull data from a smart phone (e.g., Apple's CarPlay/Android Auto), or they provide software support but no hardware option, leaving the consumer with unappealing, unsafe touch screens and graphical interfaces.
Additionally, most other systems require running cables or attaching a cradle via a suction cup mount (dash, car mode provided by major carriers, iBolt, etc.), and in other instances, they involve expensive aftermarket stereo units which do not have the software support nor the hardware to keep up with advances in technology (Pioneer, Alpine, Kenwood, JVC, etc.).
Of the 253 million cars on the market with average age of the car being 11.7 years, ONICS makes it possible for the driver to have the latest technology with the least cost. The demand for distribution rights from developing markets – China, India, Brazil and Mexico has been overwhelming.
Aaron Speach, founder and CEO of ONICS, will be launching the product campaign at the Bloomberg studios later this week. He says: "This product fulfills a stated need among the car driver customers, but the audio quality is the key…Our product has to exceed the best audio systems currently installed by the car manufacturers." He has stressed partnerships with only the highest quality audio and electronics brands to satisfy the customer's need and expectation for high-quality audio.
Partnerships.
ONICS is evaluating partnerships with software publishers, hardware manufacturers and distributors. Of the relationships, ONICS Vice President of Business Development and co-founder, Robin Bisarya stated, "Our relationships with multi-presence software designers, chip designers and worldwide ODMs are a natural fit. We are continually seeking highest quality mobile app makes, consumer audio manufacturers and white-glove installers. Our proactive partnerships are a part of a highly strategic move that will help ONICS launch internationally in a short span of time."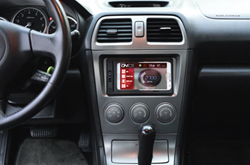 Chad Sherwood, co-founder and Chief Operations Officer, has created a team that is ready to launch production to initially fulfill orders on the three continents. He wants to reward early adopters – folks who support ONICS on the INDIGOGO site – with the very first units. The sponsors from the campaign will get an early bird price on the ONICS unit, great special edition options to choose from, as well as low pricing on other components like their faceplate that allows ONICS to work with any phone. Chad speaks about the launch in more detail: "We are so excited to bring this revolutionary product to the market, and we truly feel we are bringing a great product with unparalleled features to many with an economical price."