Sakoos, The Unique Visual Discovery Social Network.
In a mobile application dominated world, the overwhelming majority of social networking application are either trying to copy the works of pass efforts or making uncreative attempts that fail to cause any sort of hype, it's definitely positive when something as interestingly unique and refreshing as Sakoos comes to fruition.
Social Network.
Designed by the producer of the renowned YouTube channel DigitalRev TV, and is currently available for free in the App Store, Sakoos, which derives its name from the Laten word "saccus" which translate too "carrying bags" is a one of a kind visual discovery social network that allows user to create their unique profile, featuring:
Take photos of the fun objects they own or carry with them in bags, knapsacks, pockets, purses or anywhere else. Photos can also be imported directly from photo library or an Instagram account.
Tag each object – such as a pen, a purse, lipstick, hand cream, iPhone, camera, keys, or about anything else one might carry – through the app's excellent tagging interface.
 Share their tagged items with other Sakoos users, while they explore and discover items of interest that they can "like" and comment on.
Discover interesting people via the app's search function, which enables search by usernames as well by tags.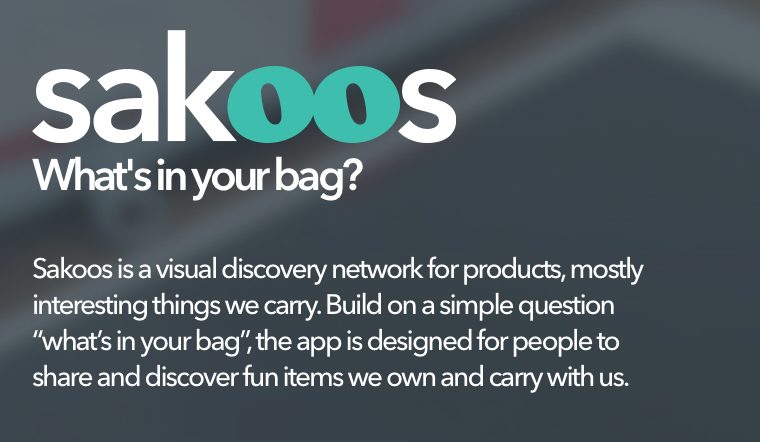 Bloggers.
Also, bloggers and content creators will be able to use the application to generate "clickable" and interactive "what's in my bag" widget which can then be easily embedded into their blogs and sites. Instead of describing what's in the bag content creators will appreciate the little fun widget which allows their readers to click and discover.
"The idea of Sakoos was built on a single and simple question that we ask each other all the time: what's in your bag?" commented Richard Yu, the producer of DigitalRev TV and maker of Sakoos. "Although the idea of discovering products may initially seem materialistic, it's actually much more profound than that. The objects we carry in many ways reflect and express who we are, what is important to us, and what we want other people to know about us. It's like an unspoken, yet unifying language that transcends the boundaries that often keep us apart."

Added Richard: "At the same time, Sakoos is a celebration of engineering, design, craftsmanship, creativity, manufacturing and ingenuity. Whether it's a finely crafted leather case, or a sophisticated piece of consumer technology, users can appreciate and admire remarkable items that really demonstrate, for all of the problems we have in our world, that we human beings can really create amazing, cool and inspiring things when we want to! People are all different, and it is reflected in the items we carry with us. In the sense I felt that the app is also a celebration of diversity in our humanity"