TDWI Checklist Report Removes Confusion On Recent Cloud BI Issues.
TDWI Research has released its newest Checklist Report, Demystifying Cloud BI: Six Issues to Consider. The report examines cloud BI deployment and delivery, data management, cloud costs, governance, security, and BI maturity issues.
Cloud BI.
"Cloud BI has been positioned as the next evolution in business intelligence because of the advantages the cloud provides in terms of flexibility and elasticity," report author Fern Halper explains in the report. "The cloud provides scalable storage, computing power, and elastic resources."
However, she points out, "there is still confusion about moving to the cloud model, and cloud BI adoption has been slow." Despite the growing interest in cloud computing for business intelligence, organizations still are concerned about security and privacy, which this Checklist Report examines. The report is designed to help readers better understand their concerns about moving to the cloud, beginning with an examination of these and other issues.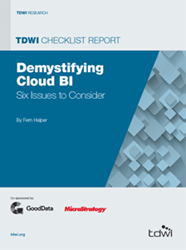 TDWI research on big data found that organizations that incorporate the cloud as part of their analytics ecosystem are more mature than others, according to Halper. The report explores the various ways the cloud can be used for BI that do not require organizations have BI on premises or have mature BI.
The report: 
    Explains how data integration and data movement can sometimes be a stumbling block to moving to the cloud; Halper discusses several techniques that can be useful for helping data flow smoothly from one application to another
    Why the cloud can be a good starting point for organizations interested in BI; a mature BI environment is not required
    Examines CapEx and OpEx expenses and the importance of evaluating both types of expenditures when considering a move to the cloud
    Looks at why concern over the challenge of governance is a positive, not a drawback
This research was sponsored by GoodData and MicroStrategy.